Info
For best performance, we recommend using Google Chrome as a web browser to run the SAFE application.
SAFE Home Screen
---
After Sign In to SAFE, users are redirected to the SAFE Home Screen (Dashboard).
The following options are available on the SAFE home screen: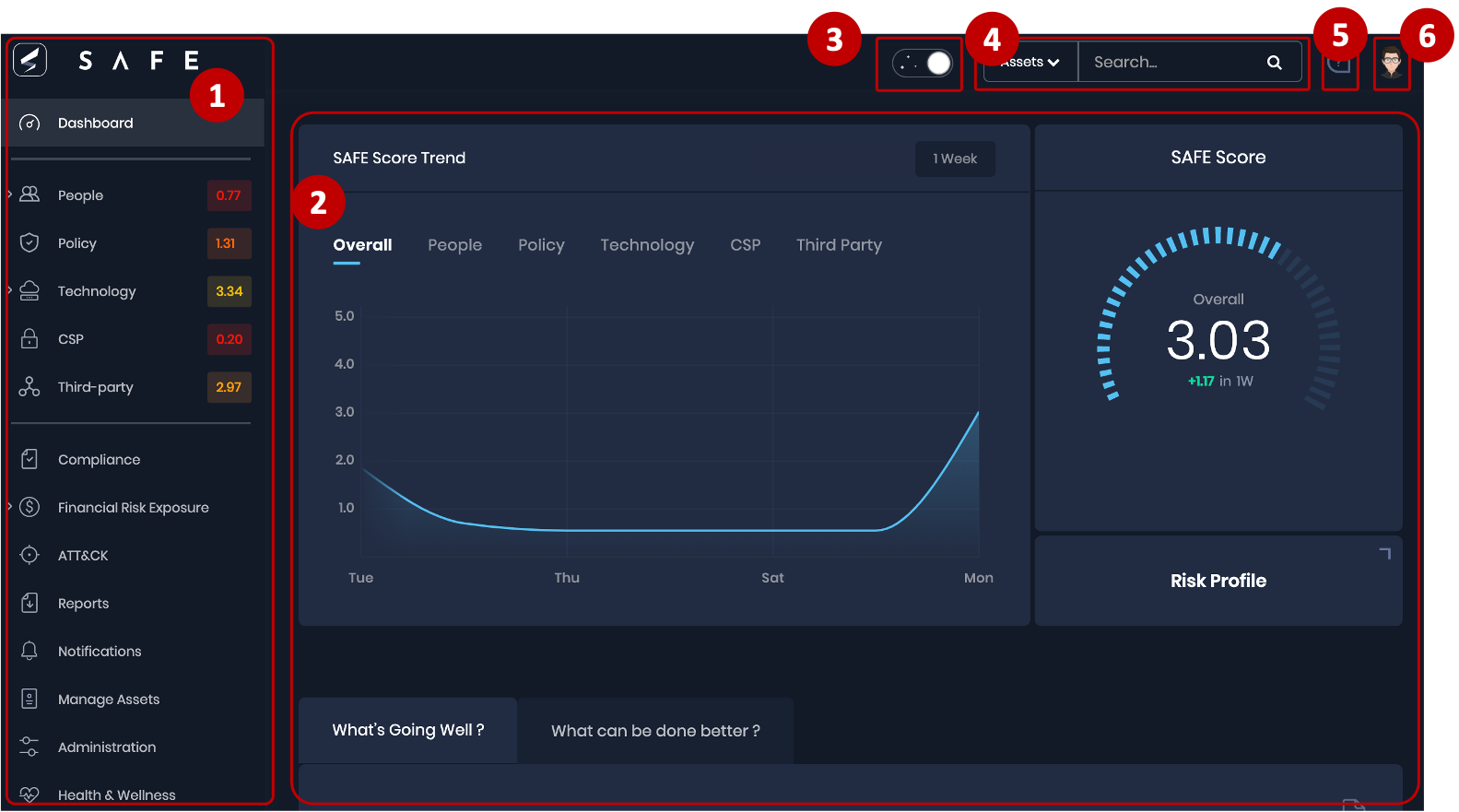 | Serial Number | Title | Description |
| --- | --- | --- |
| 1 | Left Navigation Menu | The left navigation displays SAFE scores for People, Policy, Technology, Cybersecurity products, and Third-party. This menu allows users to easily navigate to the various modules of the SAFE application. Clicking on any option, users will be redirected to the respective module pages. |
| 2 | Dashboard | SAFE Dashboard gives a holistic view of aggregated security maturity score analytics. It provides a container to show the results of the SAFE assessment. It displays the collective SAFE Scores for all the categories as well as the individual SAFE Scores of each of the groups. |
| 3 | Dark Mode Switch | This switch allows you to switch between light and dark mode. |
| 4 | Global Search | Global Search allows users to search the assets, controls, and services quickly using keywords in the search field. |
| 5 | About SAFE | This option allows users to navigate to the About SAFE screen. This screen displays the details of the SAFE application such as application version, license info, etc. |
| 6 | Profile | This option allows users to view the user's profile, change password, and Logout from the SAFE application. |
---
Was this article helpful?
---
What's Next