New Features and Enhancements (SAFE Version 2.2.26)
---
1. Onboarding and Assessment of Google Cloud Platform (GCP) assets in SAFE
---
SAFE now integrates with the Google Cloud Platform (GCP) of your organization using SAFE REST APIs. Once the connection is established, SAFE automatically imports the GCP assets under the Cloud-GCP Technology vertical, scans the GCP assets, and calculates the SAFE Score for each asset.
To view the assessment result, you can navigate to Technology> Inside-out and click the Cloud-GCP.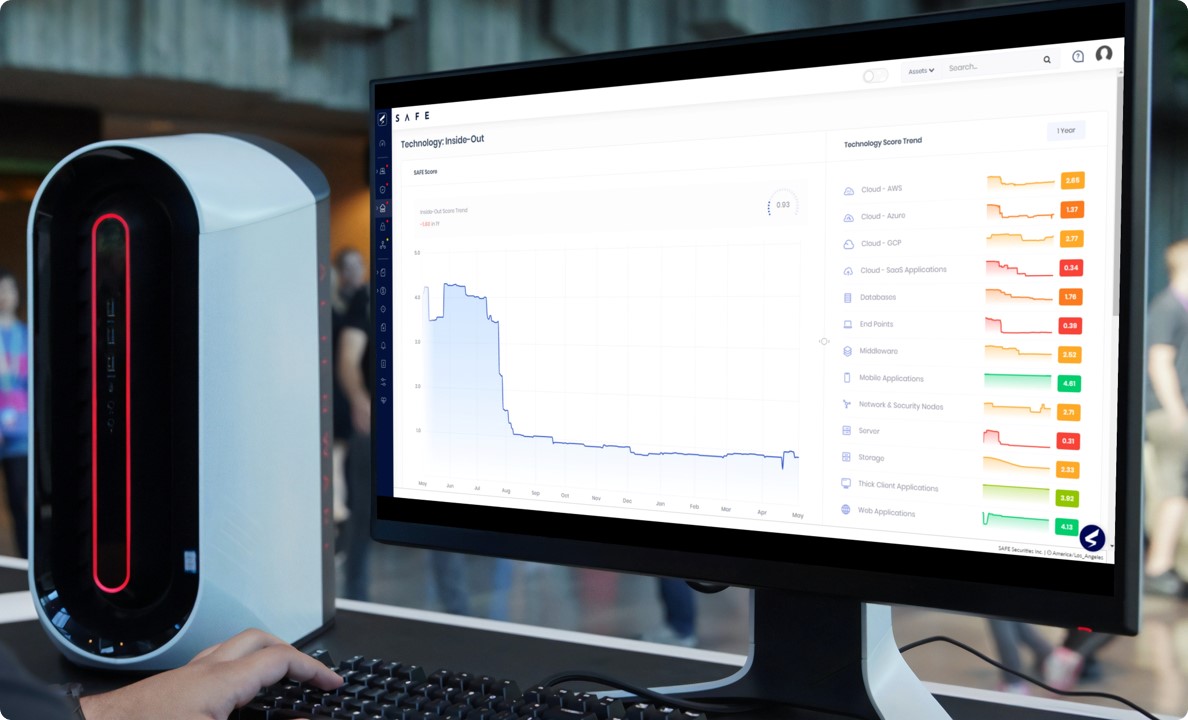 Refer to the GCP configuration guide for more details.
2. Enhancements to the Users List under People
---
2.1. New filters in Users List for Phishing and Threat intel details
Three new filter attributes Phishing Status, Proofpoint VAP, and Proofpoint VIP have been added to the User List under People. These new filters help users quickly filter
the user list and creates user groups based on the user's Phishing status and threat intel details.
Using the above three new filters, the system takes a little longer to update the user list based on the applied filters.
Notes
Using the above three new filters, the system takes a little longer to update the user list based on the applied filters.
These filters will be available to only SAFE users who have active integrations with KnowBe4 and Proofpoint.
2.2. Customize the User List table
You can now customize the User List columns using the Customize icon available at the top-right corner of the User List.
2.3. Export User List
You can now export the User List in CSV by clicking the export icon available at the header of the User List.
3. Miscellaneous
---
Enhancements in Asset Report: The system was encountering some issues in instantly generating the Asset Report that contains a large amount of data. Now, while generating such reports, the system notifies users that the report contains a large amount of data. Furthermore, once the system generates the report, users can find and download it from the History tab under reports.

Enhancements to Manual VA report upload: To eliminate the timeout issues while uploading the Manual VA Report, we have limited the number of vulnerabilities to a maximum of 4000 vulnerabilities per CSV. It is recommended to break the large files into multiple files and upload them.
Enhancements in Azure configuration: On the Azure configuration page under SAFE Hooks, for a deleted or permission revoked Azure subscription, SAFE highlights the subscription as inactive with a tooltip saying "Subscription is no longer accessible to SAFE" in the confirmed subscription list.
Under Manage Assets, the Unconfirmed asset list has been renamed to Others.

Under Technology > Assets, a quick drop-down filter with options Active Asset and Retired Assets has been added. It has also been added to all the asset lists in SAFE under technology. With this quick filter, you can view and export the Active or Retired assets with a single click.

---
Was this article helpful?
---
What's Next