About this document
---
This document provides a step-by-step procedure to configure the KnowBe4 in SAFE.
Introduction
---
SAFE seamlessly integrates with KnowBe4, and this integration allows SAFE to pull the Phishing results from the KnowBe4 at pre-defined intervals, eliminating the need for manual data uploading. You can configure KnowBe4 in SAFE via APIs from SAFE Hooks.
Prerequisites
---
You need the Reporting APIs from KnowBe4 to establish a connection between SAFE and KnowBe4. You can generate the API Key from KnowBe4 as follows:
Log in to your KnowBe4 account as Admin.
Go to the Account Settings.
Click the Account Integrations from the left menu.
Click the API option.

Mark the "Enable Reporting API Access" checkbox.
The system generates an API Key. Save this API Key. You need to use this API Key while configuring the KnowBe4 in SAFE.

Configure KnowBe4
---
To configure the KnowBe4 in SAFE:
Navigate to SAFE Hooks.
Click the Configure button available on the KnowBe4 card. The system opens the

KnowBe4 configuration page.

Select the Region.
Enter the API Key. Use the same key you have generated from KnowBe4.
Select a date to exclude the phishing campaigns that were completed before the date.
Select the number of days for Auto Sync Frequency.
Click the Test Connection button to validate the connection details.
Once the connection is validated, click the Save button.

Info
SAFE syncs with the KnowBe4 and pulls the phishing results at a pre-configured interval defined as Auto-sync frequency during configuration.
Notes:
Clicking the Sync Now button available on the KnowBe4 configuration page triggers on-demand

sync of

SAFE and KnowBe4 and pulls the phishing results.
SAFE admins can Enable/Disable this integration using the toggle switch available at the top-right of the KnowBe4 configuration page.
View Phishing Campaigns in SAFE
---
Once KnowBe4 is successfully configured to SAFE, it pulls the phishing campaign results in SAFE.
To view the campaigns:
Navigate to People > Campaigns.
Click the Phishing tab.
The campaign list on this page displays all the phishing results imported from KnowBe4. The source column in the campaign list displays "KnowBe4" for the campaigns imported from KnowBe4.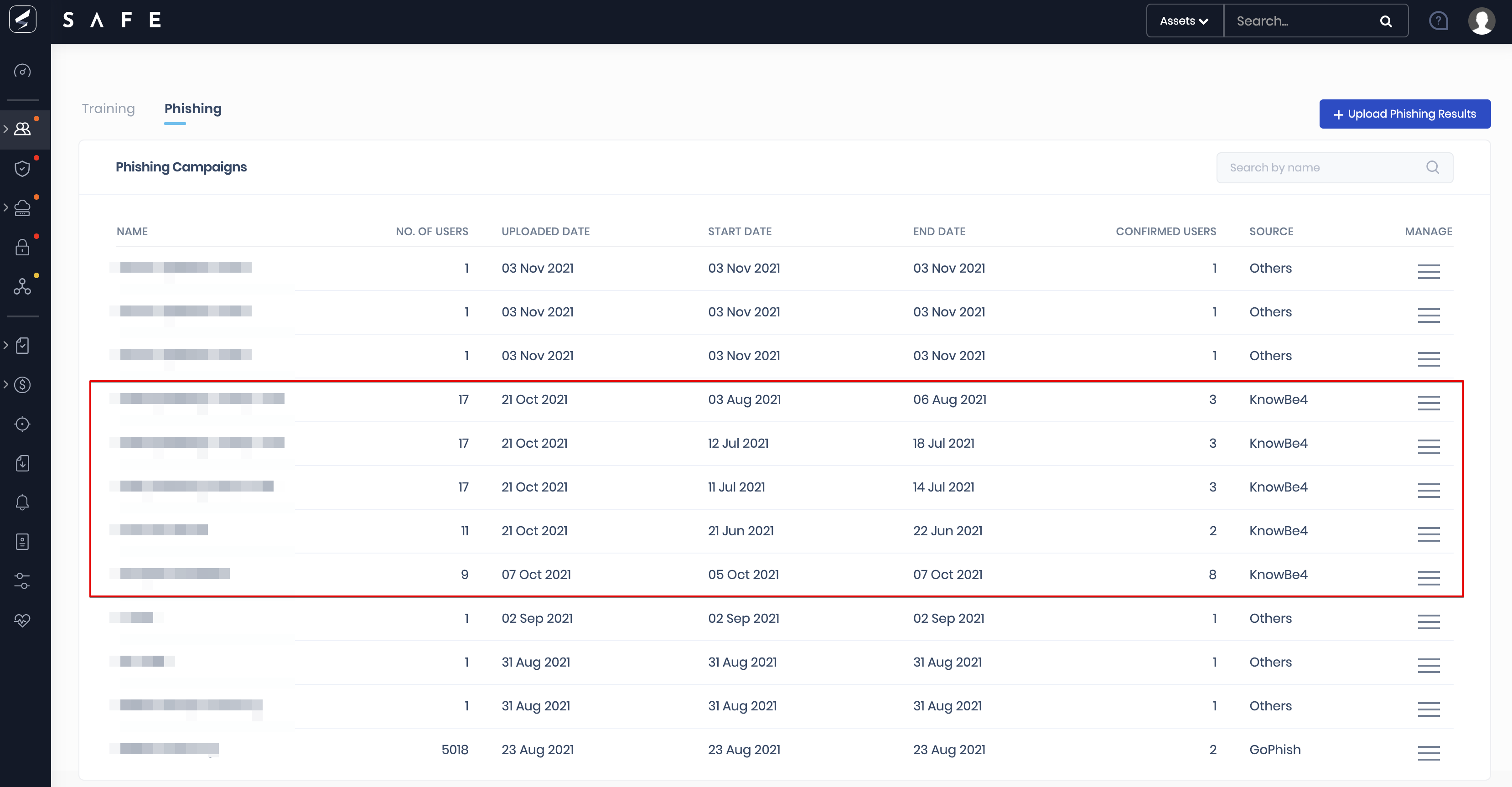 ---
Was this article helpful?
---
What's Next