Introduction
---
Arcon Privileged Access Management (PAM) provides a solution that helps in managing, controlling, and monitoring the admin activities on assets.
The SAFE Arcon integration securely manages the asset's credentials on Arcon and eliminates the manual entry of passwords on the SAFE platform for the assessment of assets. With this integration, SAFE pulls the assets credentials from the Arcon PAM server via API, validates the assets credentials, and does the assessment.
Arcon integration has been added under the Administration > SAFE Hooks > Management Tools.
Note
SAFE Arcon integration can be used only for agentless devices such as databases, servers, and Network & Security Nodes.
Info
The important information that SAFE sends to Arcon to retrieve credentials for assets are as follows:
Endpoint/Host
ARCOSWebAPIURL
ARCOSSharedKey
LOBProfile
ServerIP
ServiceType
UserName
Configure Arcon
---
To configure Arcon:
Navigate to Administration > SAFE Hooks > Management tools
Click the Configuration button available on the Arcon card.
Enter the values for API Host, API URL, Shared Keys, and LOB fields.
Mark the "Verify SSL certificate" checkbox if the Arcon server uses a CA-signed certificate, which is trusted by the SAFE server to establish a secure connection.
Uncheck the box, if a self-signed certificate is used by the Arcon server.
Click Save.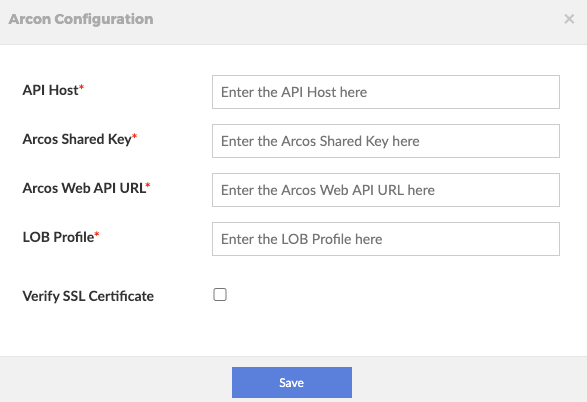 ---
Was this article helpful?
---
What's Next